1. Car park and Entrance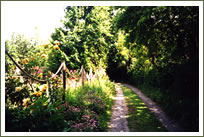 Moors Meadow is the garden to visit if you are looking for something very unique and unusual. Enjoy the mystery of leaving the beaten track to explore this hidden jewel, leave your cares behind as you drive half a mile up a lane and over the brow of a hill where a wonderful vista will open before you of our beautiful Herefordshire countryside, over the Kyre valley and Worcestershire into Shropshire and to Clee Hill.
Drive down the track and enter another world where the microclimate allows for many plants rarely seen in Britain and where the whole feel of the garden is one of peace and tranquility. The garden will facinate and delight all and will tax even the most avid plantaholic trying to identify the many thousands of species of plants.